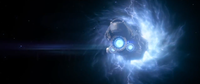 Information
Edit
The Shaw Fujikawa drive is similar to Star War's light speed. Only slipspace creates a portal, that must be monitored by drones to detect it's "weather". If it is unmonitored, ships could disappear in Slipspace forever or wind up somewhere else.
Ad blocker interference detected!
Wikia is a free-to-use site that makes money from advertising. We have a modified experience for viewers using ad blockers

Wikia is not accessible if you've made further modifications. Remove the custom ad blocker rule(s) and the page will load as expected.